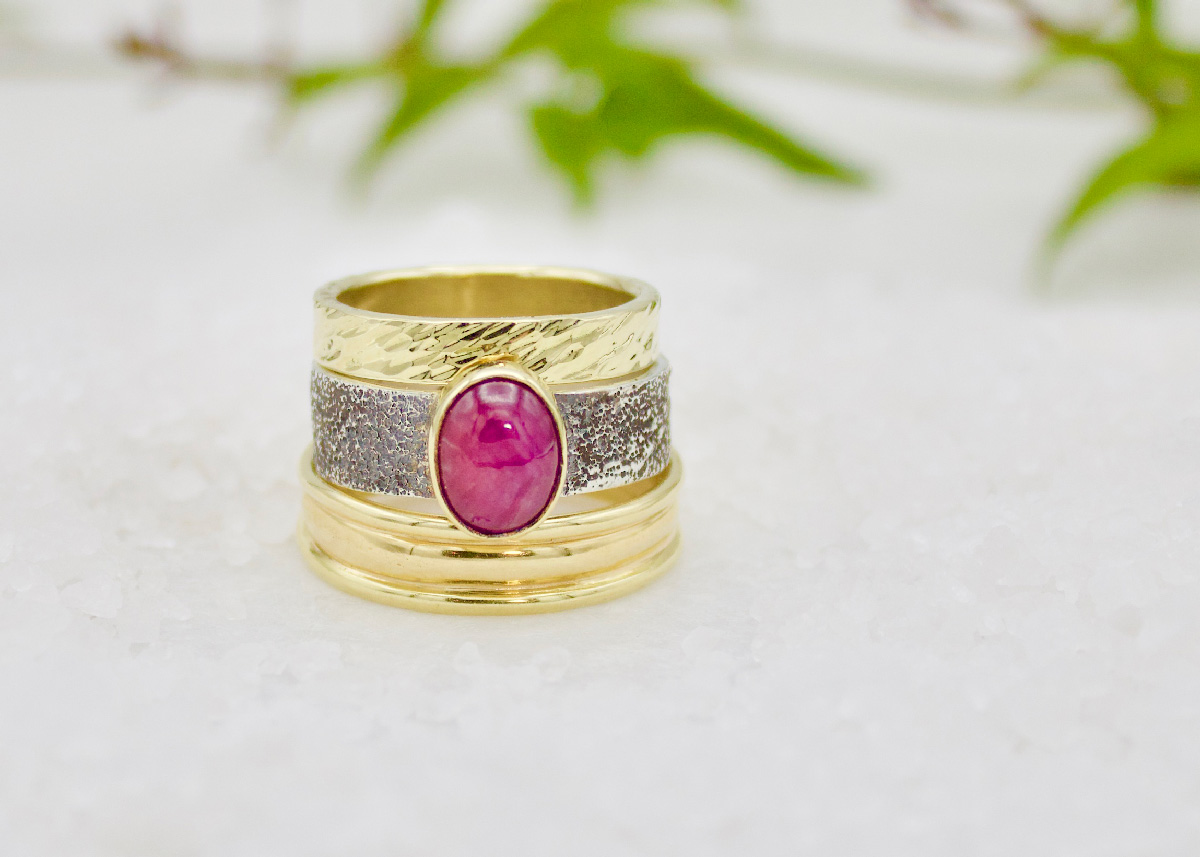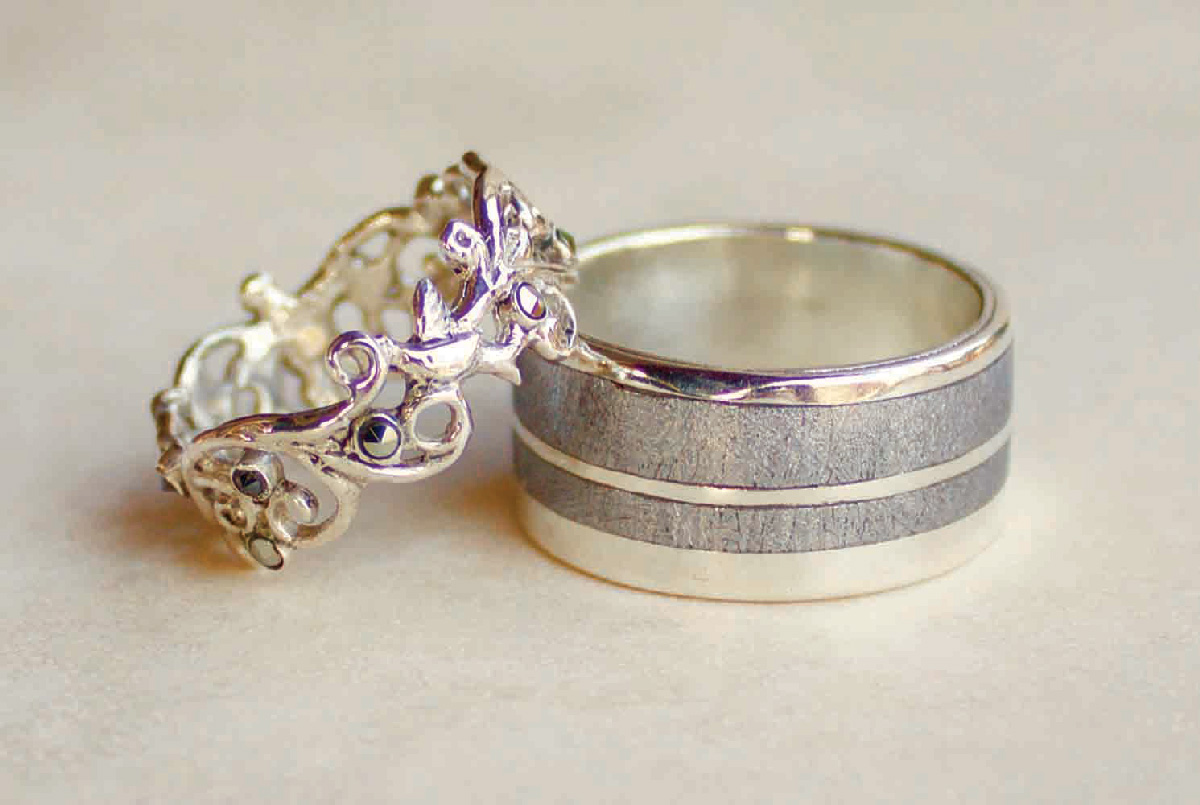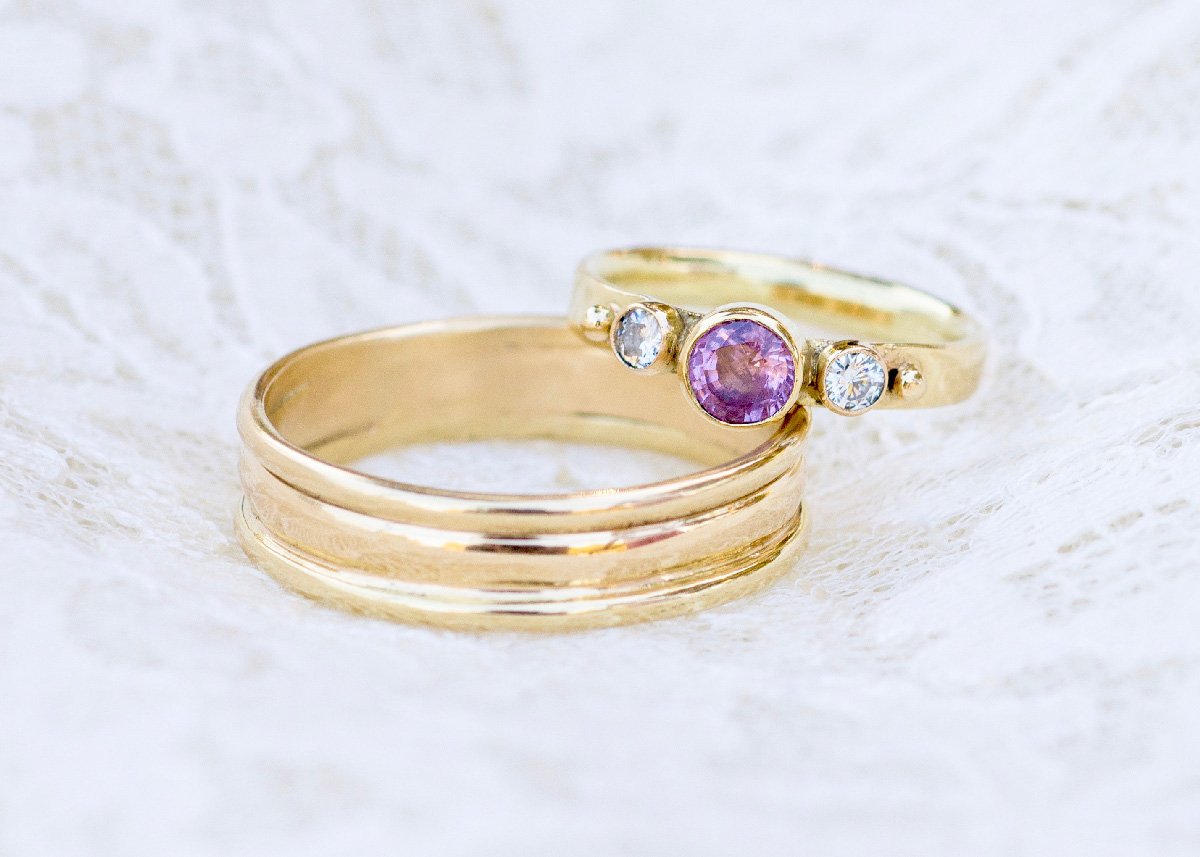 It is our mission to provide the most sustainably designed heirloom jewelry for our conscientious customers, from concept to materials to the finest customer service possible. Together with our commitment to sustainability, we believe kindness, equity, and justice are principles to live—and work—by. Our work as Forge & Fountain is an expression of empathy and inclusion, honoring people's differences and celebrating their bonds. We welcome the opportunity to serve people of all backgrounds, relationships, and beliefs.
What is Forge & Fountain Jewelry's origin story?
Our creative partnership is something of an alchemical romance...it began when we met 10 years ago performing at a Renaissance Faire. Josh was a dancer and metalsmith; Holly was a singer and artist. We bonded instantly over a passion for single malt whisky, and our story quickly blossomed into Love, and artistic collaboration! Joshua's background is in blacksmithing, bringing a fiery, primal quality to his work in Argentium and gold. Holly's influence is more nuanced, her fine art esthetic giving the work an intricacy of line, form and color. While Joshua has an elemental connection to the metal itself, Holly is drawn to gemstones and how their color, luster and placement is composed in the finished jewelry. For us, making jewelry is a sacred art, sculpting the elements found in nature with our intention, design and sense of meaning. When our client falls in love with and dons a piece of our jewelry, this alchemical transformation is complete.
What is one of your favorite projects you've ever worked on?
Our newest favorite project was a set of wedding rings for a theatrical couple with a limited budget. Using the bride's heirloom gemstones and touching on both bride and groom's love of history, we created a unique set for them bursting with color and richness. An emerald cut blue topaz, two green tourmalines, and an 18k gold acorn are the centerpieces of the rings we named "Mermaid's Kiss" and "Oak's Embrace."
How are you a wedding space disrupter?
We don't follow the "rules" of traditional engagement and wedding rings; we follow our conscience. We use sustainably sourced materials at every turn, and encourage our clients to prioritize traceability and ethical production in choosing the precious metals and gems for their "forever" jewelry. Diamonds are lovely, but there are so many other opportunities to forge lasting beauty and meaningful form for wedding rings. We believe the only rule is that our jewelry is a beautiful and enduring representation of your love.
What three ingredients are necessary for a great day at Forge & Fountain Jewelry?
A perfect day for us includes getting into a creative groove in the studio with some great tunes, taking a break to watch our husky frolic with her friends at the dog park, and seeing the sparkle in a client's eye when they try on that piece of jewelry they've fallen in love with!
What are some traits of your ideal clients and customers?
Our ideal clients have a great sense of imagination, a hint of playfulness, and a love of collaboration. We love working with clients to incorporate the things that are most meaningful to them, whether that is a favorite style, a special heirloom gemstone, or a heraldic symbol from their family tree.
What Past Clients Have To Say:
"We loved working with Holly and Joshua on our custom wedding rings! Being both fun and professional, they made the entire process easy and personal. Holly took a fragmented idea of elements and turned it into an elegant piece of art. It was a real collaborative effort; they listened to what we were envisioning and offered suggestions all along the way. The rings are beautiful and absolutely perfect. We couldn't be happier!"
—Bronwynn Lloyd Benincasa, 2017
HOLLY DeFOUNT & JOSH HAIMAN
We are husband and wife artists crafting beautiful wedding jewelry with our unique alchemy of style and old world techniques. Our handcrafted, uncommonly beautiful rings are specially made to celebrate your unique love! From Gothic Revival to Art Nouveau to Celestial Modern, we've forged an eclectic collection of styles for every budget. Above all, we are passionate about kindness, equity, and justice. Our jewelry is an expression of empathy and inclusion, honoring people's differences and celebrating their bonds.
Category
Website
Location
San Francisco Bay Area and Online
Price Range
US$450-2,500
Shipping Policy
We ship most House Style rings and Ready to Wear rings between 10-14 business days of purchase (unless otherwise noted) via USPS Priority Mail. We insure and require a signature upon delivery for all orders over $250 for extra security; please take this into account when providing your shipping address/instructions.
Customized and bespoke jewelry may take up to 6 weeks to ship, depending on availability of materials and our production schedule.