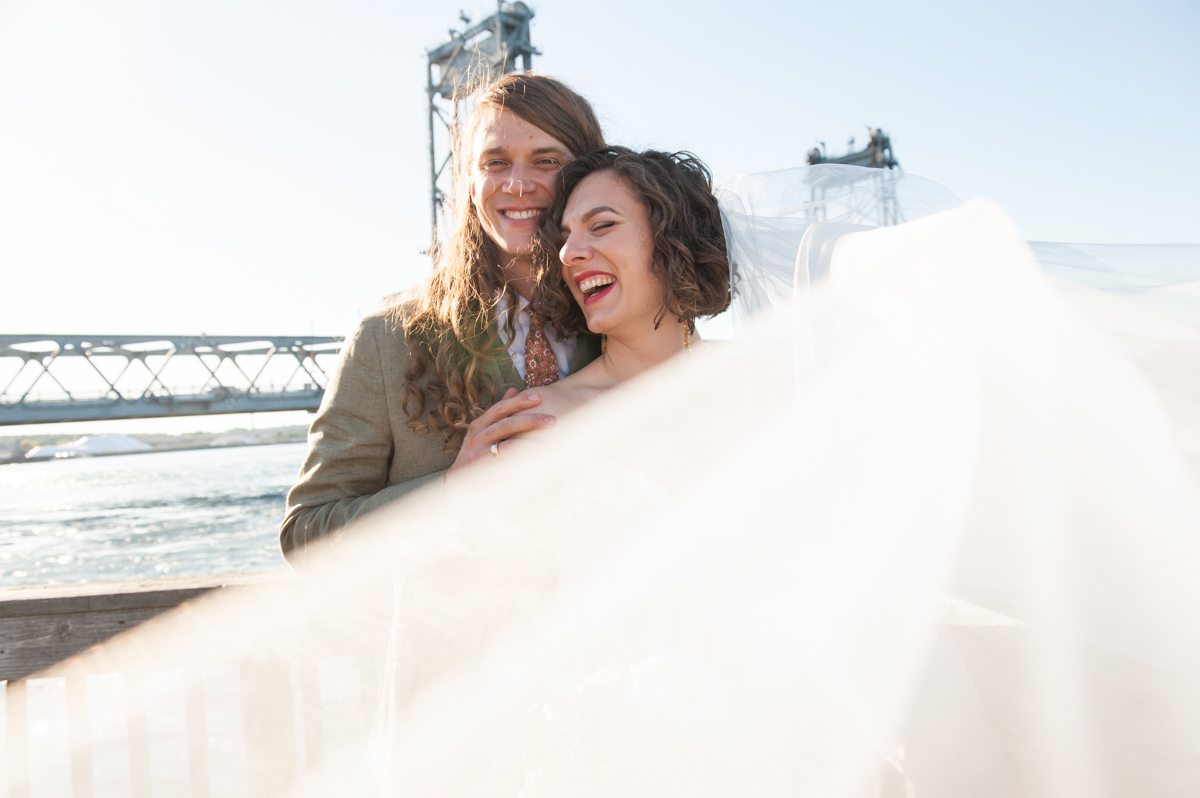 Ten years ago, I dipped my toes into wedding photography, fully expecting to hate it — the whole wedding industry just looked so… icky. (All the drama and pressure and hetero-normative traditions, yikes!) It didn't take long for me to realize that lots of couples also feel a little icky about the mainstream wedding industry, and still want to have fun, joyful, memorable, and unique weddings. I have made it my mission to find those people and help them have fantastic stress-free weddings with beautiful photographs to remember it all.
I live in the Roslindale neighborhood of Boston with my wife and kids, spend a lot of time supporting other women in business, mentoring young photographers, and writing blog posts to help couples resist the Wedding Industry hype! I have five year old twins, so when I am not working, I am likely on a local playground, at the Children's Museum, or vacuuming glitter off of my kitchen floor.
How do you approach weddings?
I want couples to enjoy the whole experience of their wedding day and along with that, the experience of being photographed. Finding the right wedding photographer isn't just about having beautiful photos; it's also about enjoying being photographed, feeling comfortable, and being able to be yourselves in front of the camera. But most couples aren't automatically relaxed on their wedding day when surrounded by hundreds of family members and guests.
To help, I have developed a highly personalized and collaborative approach. Long before the wedding day itself, my couples and I get to know each other. We do what I call a "Get to Know You Session," (which is like an "engagement session," only that term feels like it implies something cheesy and gendered) for them to get some practice being photographed and feel more comfortable in front of the camera. We talk about what kinds of photos they're looking for, what photos they want to look back on in ten years, and what photos they're most excited about. Then on the day of, I pretty much tag along like a third wheel, not only documenting as the day unfolds, but helping couples navigate the events and solve problems so that their wedding day experience remains smooth and stress free.
My goal is to be not only your photographer, but also your teammate. I've been known to bustle dresses, pin on boutonnières, and even sew on a lost button. During the actual wedding day, your photographer is alongside you more than any other vendor; I consider this a great privilege and a great opportunity to help support my couples throughout the experience in every way I can.
What are some traits of your ideal clients?
I specialize in working with LGBTQ+ couples and allies who value their wedding day as the start of something great, not the pinnacle event of their lives. I totally reject the hetero-normative narrative that surrounds weddings and the typical wedding industry, and that I am committed to portraying weddings that are inclusive, affirming, and diverse.
What are three of your favorite things?
Well that is easy: my wife and my two kids! They are my three favorite things and by far the most important, fun, wonderful, challenging, loving, supportive, snuggly, accepting, understanding, and fulfilling of all.
What Past Clients Have To Say:
"We loved having Leise as our wedding photographer. Not only does she take amazing, heartfelt photos which speak for themselves, she was also such a great presence on our wedding day. She was high energy yet calming at the same time — all our friends and family raved about her. We loved the time we shared with her and the pictures she took for us — we would absolutely recommend her to anyone looking for an amazing wedding photographer."
LEISE JONES
For nearly ten years I have specialized in creating authentic photographs for LGBTQ+ couples and allies who feel frustrated with traditional wedding-related expectations, and who care more about having a fun wedding than they care about having a perfect wedding. My approach is collaborative, personalized, and centered around helping you feel comfortable in front of the camera so that you can truly be yourself!
Category
Website
Location
Boston, Massachusetts
Price Range
US$2,000-$5,000
Travel Policy
I am happy to travel to your wedding, anywhere it may be! There is no charge for weddings anywhere in Massachusetts, and a $150 fee for weddings in other New England states. If your wedding is outside of New England, please reach out and we can talk!
Elopement Policy
I love elopements! I am always happy to photography intimate weddings, City Hall weddings, elopements, and weekday weddings. If four hours of photography seems like too much, contact me and we can work it out!