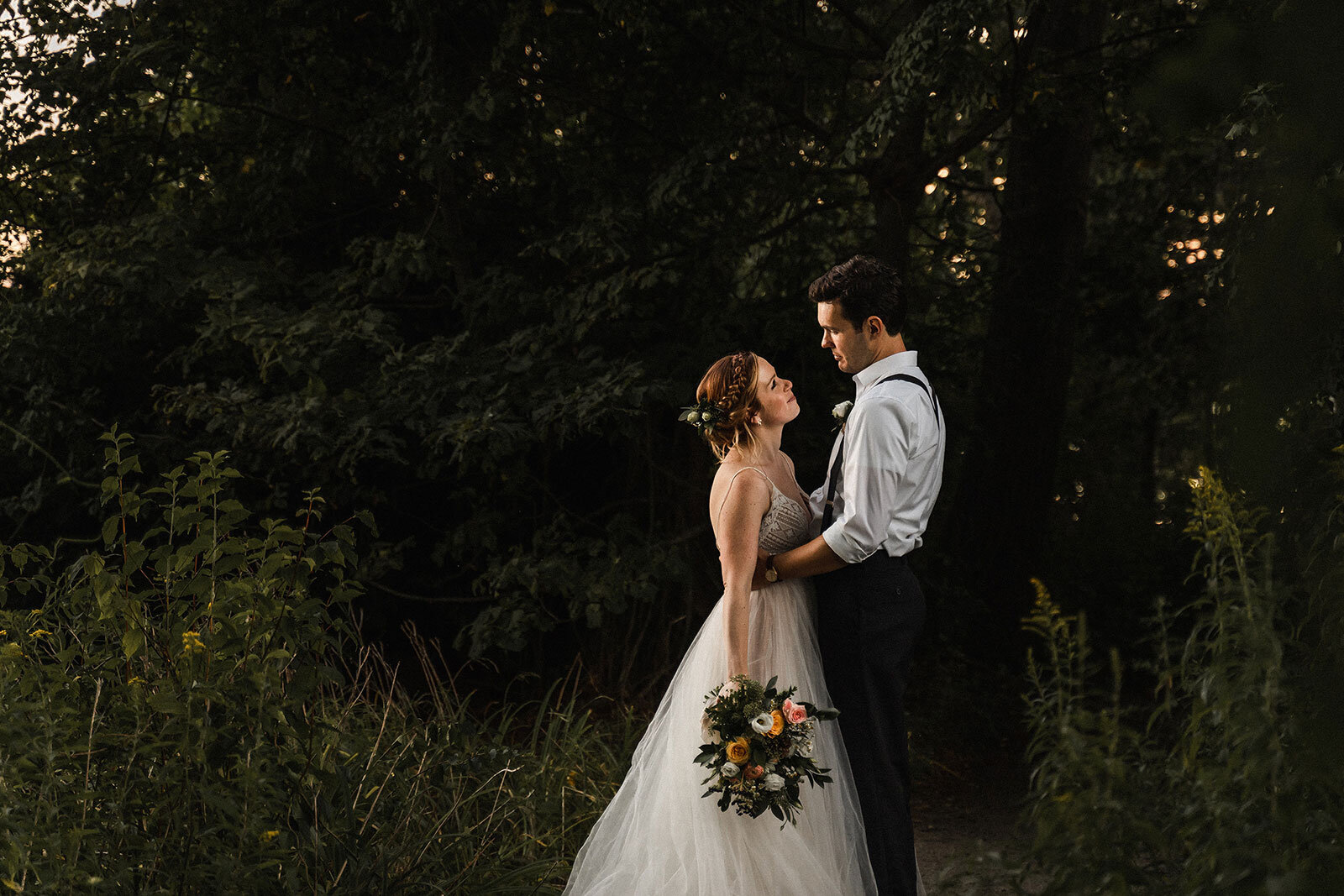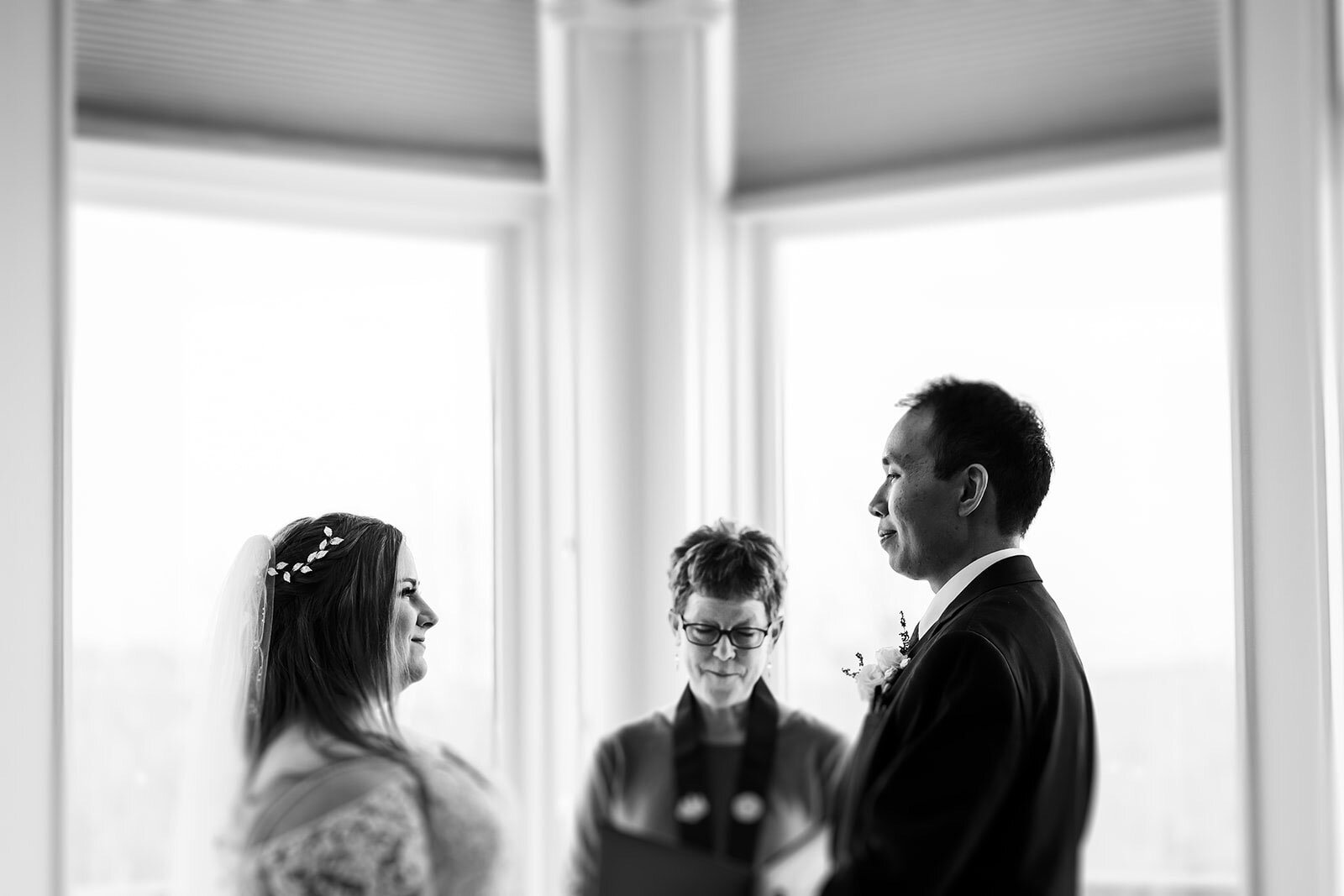 I'm a lover of marriage and weddings (so much so that my partner and I eloped, had a wedding the following year, and are in the midst of planning a vow renewal). I'm a fan of couples who choose their way over tradition. I'm a lover of intimate celebrations, non-traditional spaces, and throwing convention out the window! No matter what your day looks like or how you choose to celebrate your story, I'm ready to capture it authentically and vibrantly — in a way that's true to you.
How do you approach weddings?
I document pure unposed joy. I aim for elegance with an edge — clean sharp images with an emphasis on emotional connection. I'm a fan of unconventional angles, creative composition, and vibrant colors. I have lovingly been referred to as "the sweetest camera creeper" due to my affinity for quietly blending into the flow of the day in order to authentically document the action. My work is heavily photo-journalistic with a splash of creative classic portraiture.
But more than that, one thing I feel very strongly about is making sure that all of my clients feel a sense of calm and ease from me, no matter what else is happening that day. Timelines are great and, don't get me wrong, I appreciate a good schedule, but I'd rather prioritize your well being and ability to enjoy the day over constantly checking the time and pushing you from place to place. One piece of feedback that I've received from every one of my past couples (yes, really!) is that I was an extremely calming presence and source of confidence throughout the whole day. So, not only do I deliver a quality product, even more importantly your experience will be extremely positive, easy, and relaxing.
What are some traits of your ideal clients?
My ideal clients understand that weddings are about so much more than bouquets (although beautiful!) and cake (although delicious, and I for sure want a piece!) — they're about basking in the glow of the day, taking in the quiet moments, and honoring what brought them together in the first place. They're about creating a space to more deeply connect with family and friends, and celebrating intimacy, love, compassion, spontaneity, and fun. I'm drawn to couples who celebrate in ways that are wholeheartedly themselves, because my work is all about reflecting the authenticity of the day.
What are three of your favorite things?
Cats, spontaneity, and a good cup of tea.
What Past Clients Have To Say:
"I cannot recommend Rachel enough. Our wedding day, to put it simply, was borderline a disaster and Rachel rolled with the punches the entire day — from keeping me calm, saying 'breathe,' and overall was just a calming presence in an absolute storm. My husband and I were, quite honestly, dreading getting our videos and our photos back because our wedding literally did not go as planned at all — we got married on the hottest day of the year and our venue lost power with no backup plan so our barn was dark, fans were not working, and we had to keep moving activities to different areas to accommodate the lack of light and airflow. I say all this because we got our final video the other day and my husband and I couldn't stop smiling. Rachel somehow made our wedding look absolutely beautiful. She highlighted the small, intimate, happy moments and made them the focal point. Her video, her talent, gave us an absolutely amazing gift that is worth its weight in gold. Despite how our wedding day went, my husband and I have something that captures US and our love and it has made it possible to not focus on the negative aspects of our wedding. I can't thank you or praise you enough, Rachel. You gave us something absolutely amazing that will be cherished and treasured for generations to come. From the bottom of our hearts, thank you."
RACHEL EPPERLY
I'm a queer, body positive, feminist photographer and videographer who isn't afraid to get a little weird. I wholeheartedly believe in the power of photography and videography to reflect the truest and deepest parts of people and their stories, and each and every time I pick up my camera I strive to document authentically, intimately, and vulnerably. I create photos and films that look and feel like you!
Category
Website
http://rachelepperlymedia.com/
Location
Portland, Oregon
Price Range
US$2800-$5000
Travel Policy
I go wherever your love story takes me. Travel costs throughout the US included. Anywhere else, all I need is a flight and place to sleep!
Elopement Policy
As someone who eloped with my partner at the tiny town office in his rural Maine hometown, I have a super soft spot for elopements. I build custom coverage around what you're looking for. This also applies to intimate weddings and elopements and weddings that fall on a Monday-Thursday!