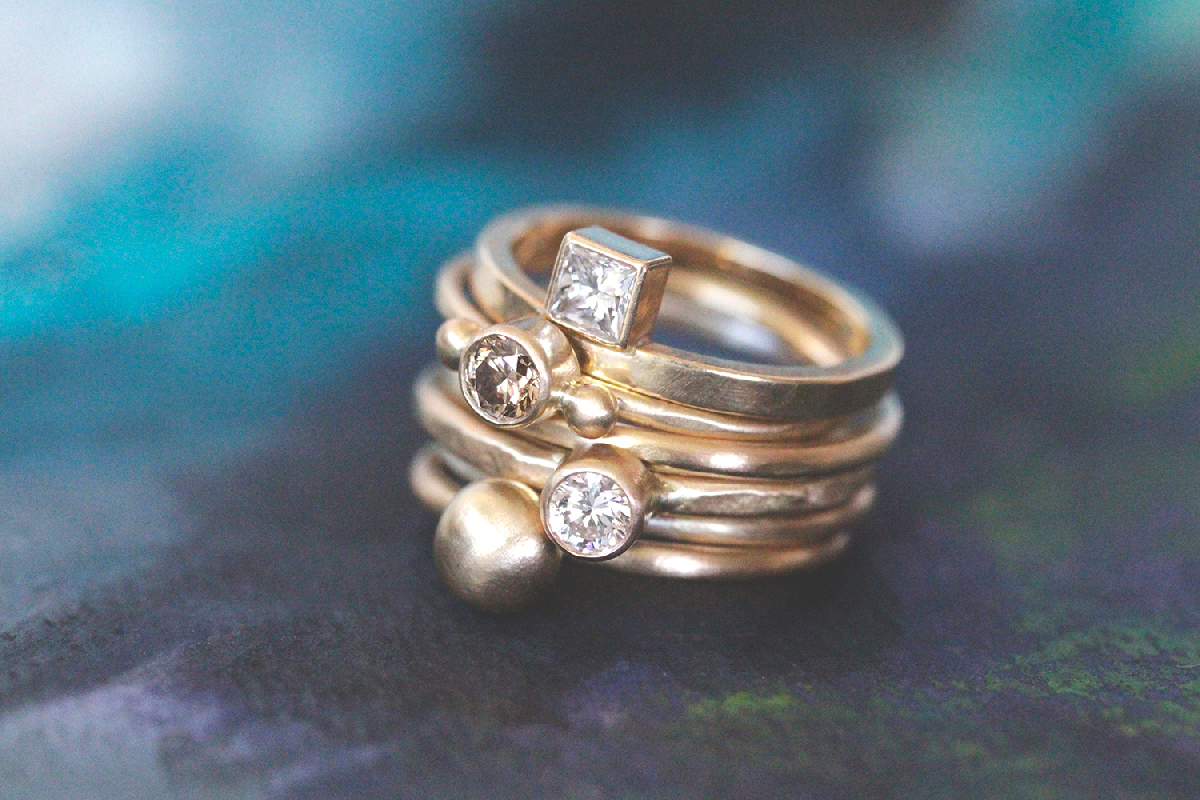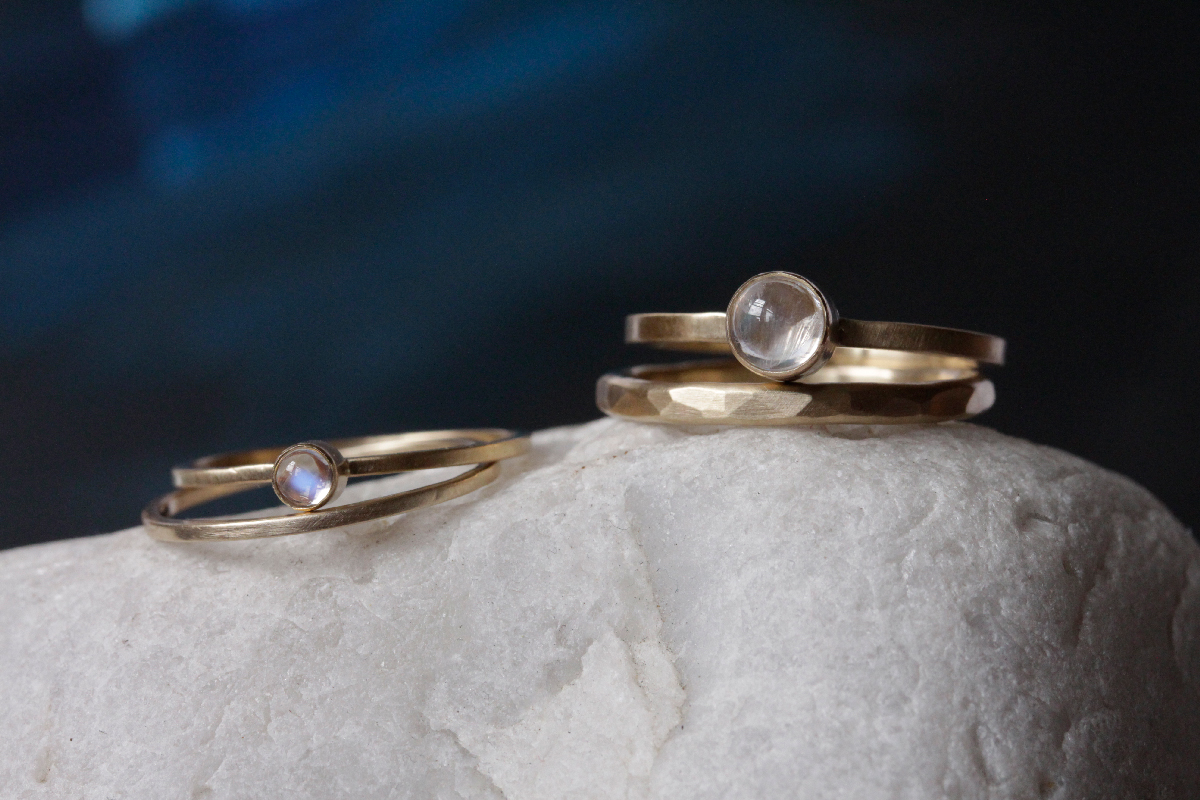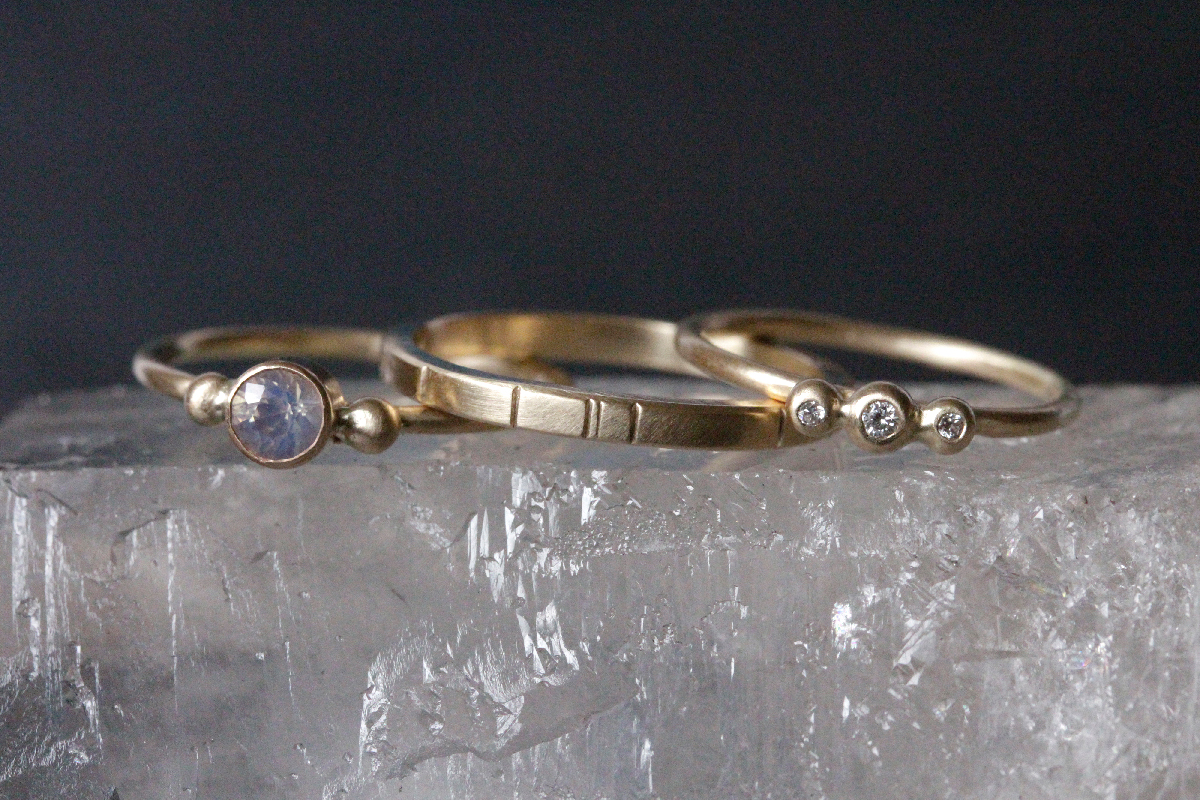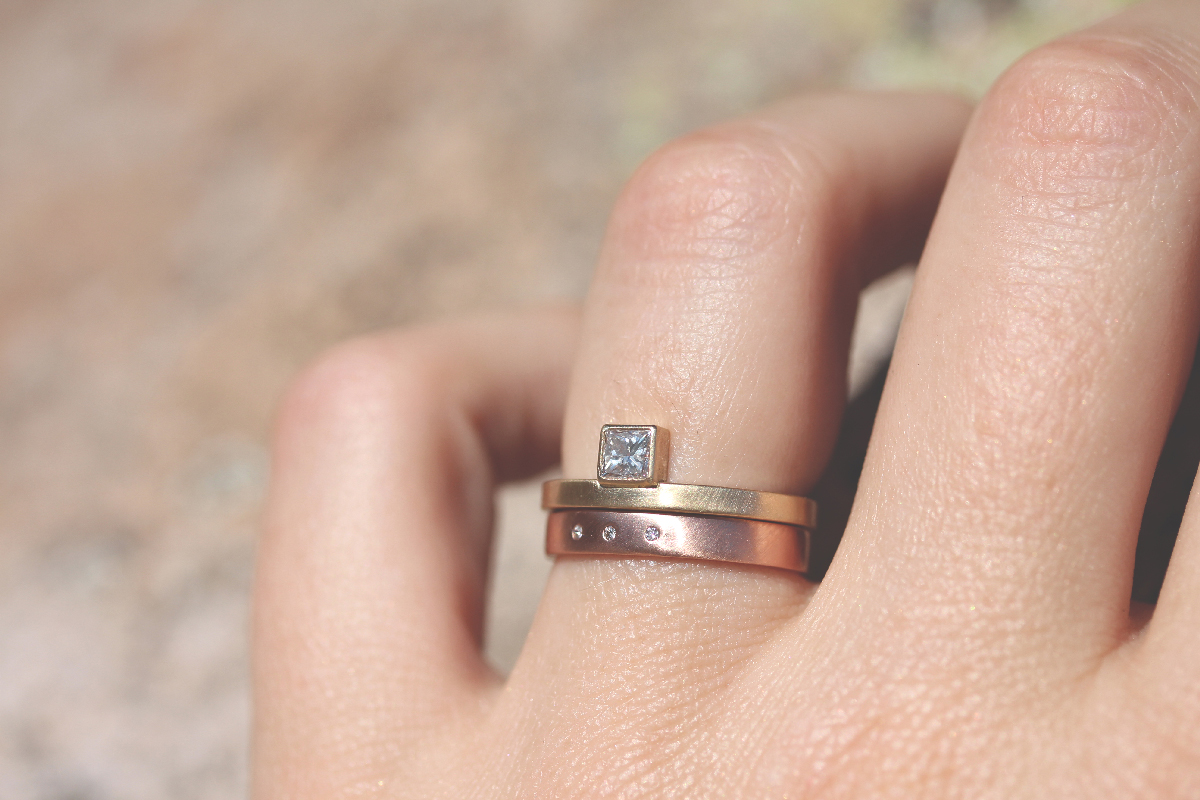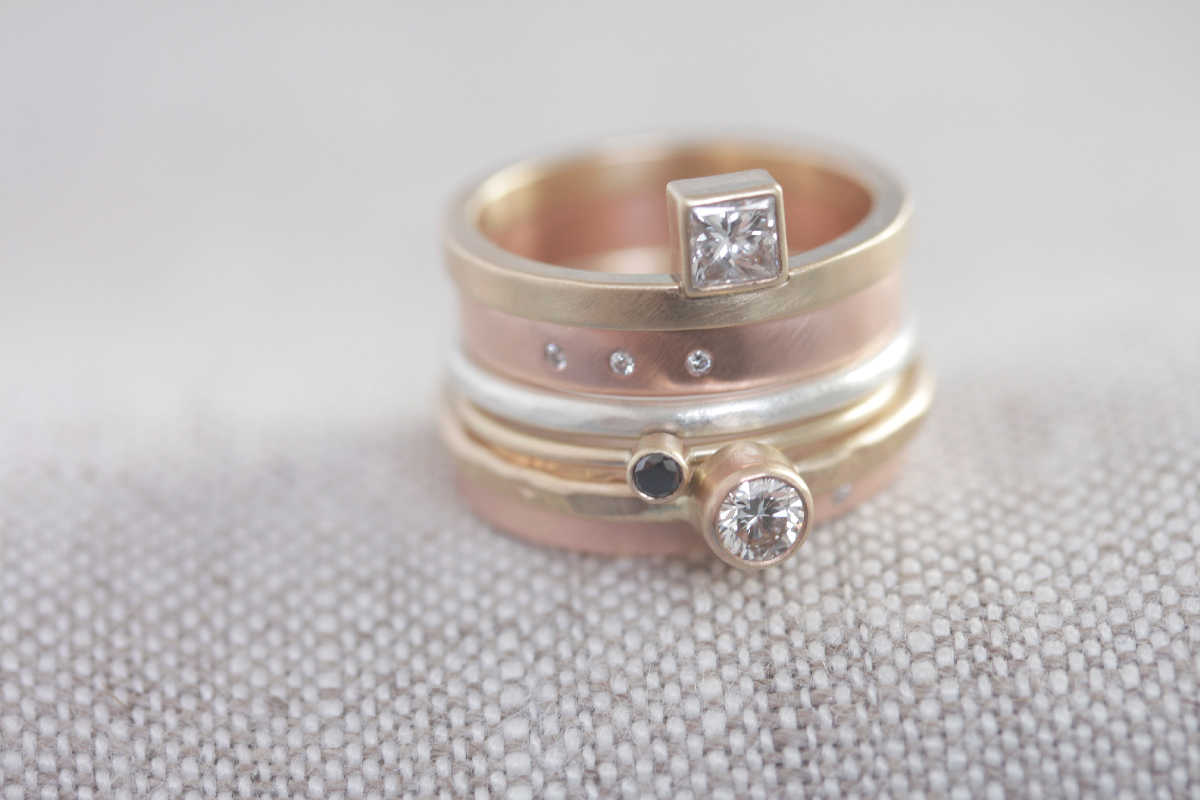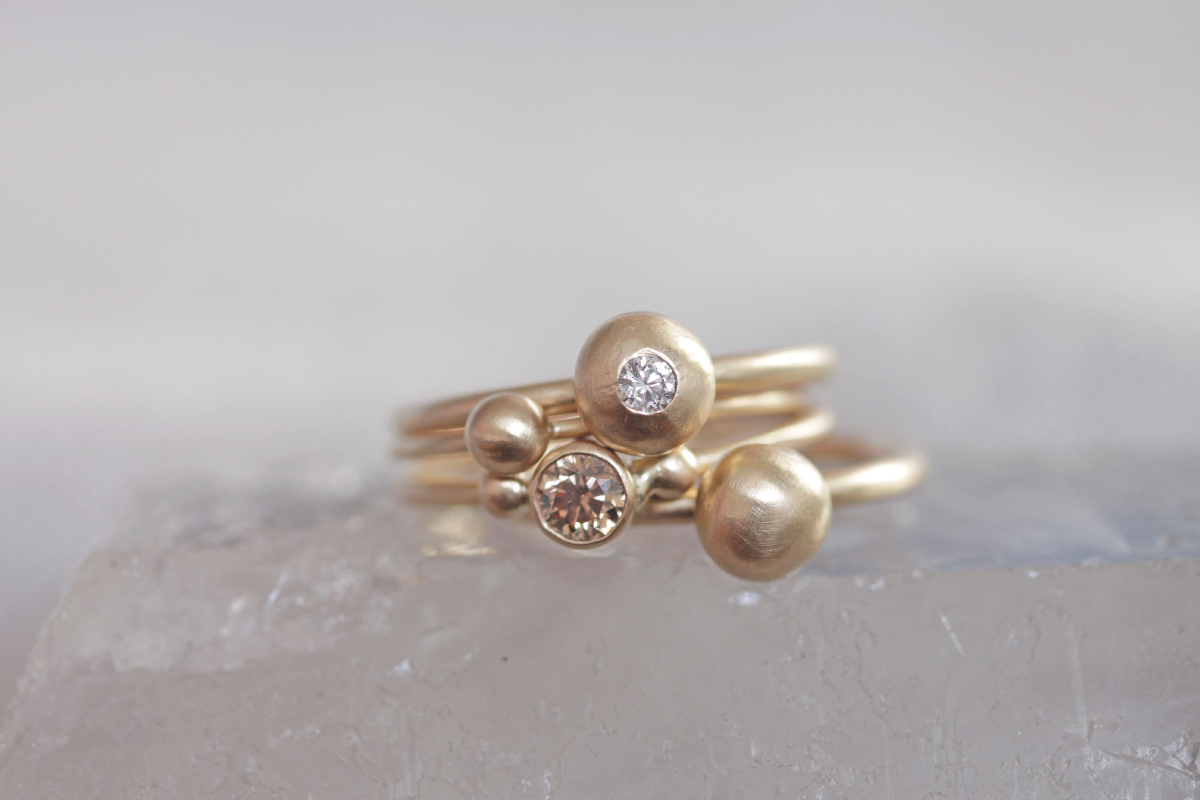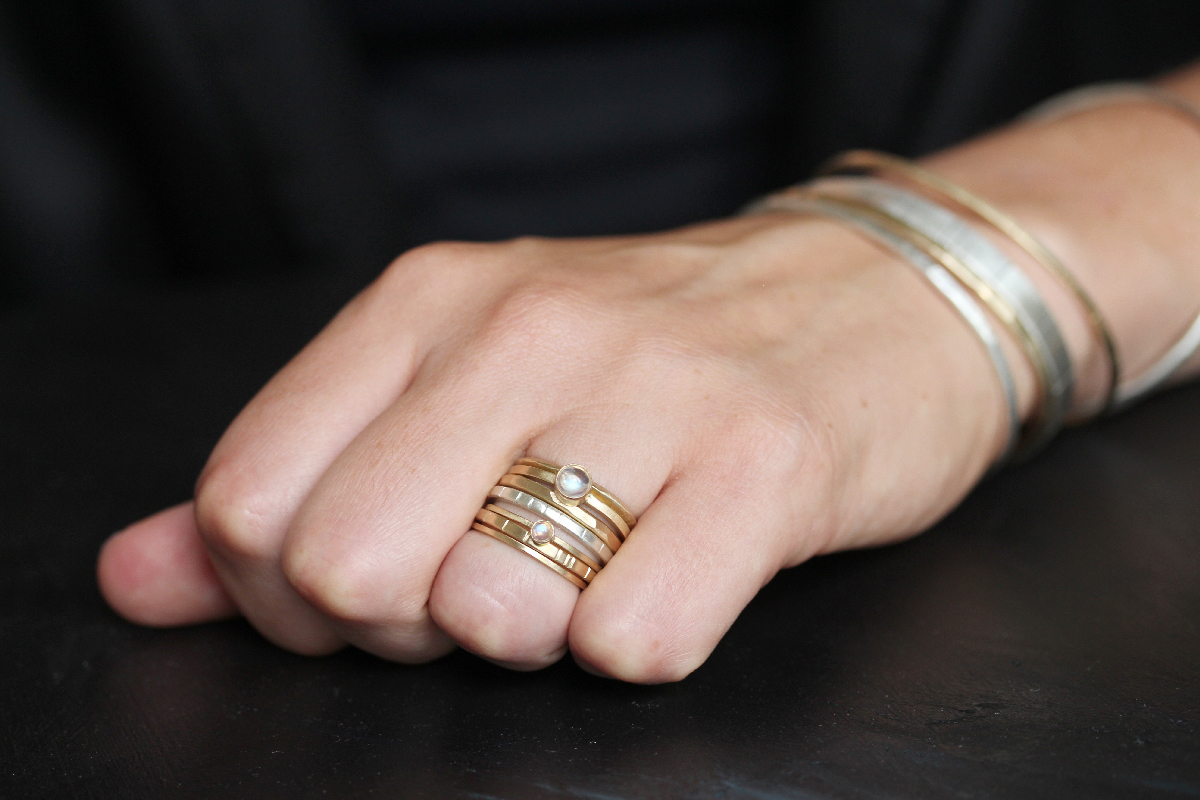 My jewelry is made with care in my studio in Santa Fe, New Mexico. As supporter of marriage equality and environmentally sustainable practices, I make all of my jewelry by hand from reclaimed precious metals — primarily sterling silver and 14k gold — and ethically-sourced stones. My pieces are designed to be modern heirlooms for all.
What is Rebecca Mir Grady Jewelry's origin story? 
I've been making jewelry since I was a kid, for myself and for friends — making the jewelry that I wanted to wear, but couldn't find, and sometimes turning drawings into pieces of jewelry. I began getting more requests for wedding rings from friends and wanted to be able to use recycled materials and ethically sourced stones for them so I decided to launch my own line. I wanted to create a line that reflected my artistic sensibility and my commitment to doing whatever I can to take care of the earth, which is where most of my inspiration comes from. I am a supporter of marriage equality and environmentally sustainable studio practices. I make my jewelry by hand, with reclaimed precious metals — 14k gold and sterling silver, and ethically-sourced stones. It's been five years now — and I'm really proud of the way the collection has grown, organically over the years. I have a larger number of pieces in the collection now and I love all of them. I want each piece to be special — to be modern heirlooms for both women and men.
What is one of your favorite projects you've ever worked on?
Hands down, my favorite project that I've ever worked on was making an engagement band and wedding ring for my wife! I proposed with a series of drawings, a treasure hunt of sorts, that culminated in a drawing of a ring. I wanted Sonia to be part of the process of designing her own band so that it truly was exactly what she wanted. So we looked at a number of band styles in the collection already, and a few more that I made special and chose some stones. Both our wedding bands and the bands of our engagement rings are the same material and proportion, but we both went for a slightly different styles. Sonia's ring has a sapphire baguette with some flush-set Canadian diamonds in the band, and a hammered wedding band. I wear a square off-set diamond ring with a similar hammered wedding band, but I went a bit bling-ier and added some extra small diamonds to my band. It was such a pleasure to be able to make our own wedding bands — exactly how we wanted them. And I love hearing Sonia exclaim every now and then how good her wedding band looks with wear. Everything about our wedding was also very hands-on and DIY. Since we knew we were moving across country from Chicago to Santa Fe, we went very small and low key. We had a small picnic at the lake in Chicago with family and friends.
How are you a wedding space disrupter?
As a lesbian jewelry designer, I have to say that I don't know very many other LGBTQ+ jewelry designers. I was really excited to find Catalyst this year because it was so refreshing to see so many diverse couples on a wedding site! When I planning my own wedding I wish I had known about Catalyst. I looked at a lot of wedding sites and just felt like they weren't me, so I really appreciate how Catalyst shares so many couples and so many different kinds of weddings, both large and small! 
I want my collection to be accessible to as many people as possible. I offer a lot of sterling silver bands and a range of 14k and 18k rings so there are options for smaller and larger budgets. Also, while there are some pieces in my collection that are decidedly more delicate and some that have a more masculine feel, I try to design the collection so that it can be worn by anyone. I don't divide pieces into "Men's" and "Women's" categories. There should be no rules when it comes to jewelry, especially wedding jewelry. I think everyone should be able to wear whatever they want! I like wearing some skinny stacking rings and a heavy hammered band and a cuff. I also love mixing metals. There are some styles of rings (i.e. some of the skinny stacking bands) that might need to be customized for larger sizes, but overall, a number of pieces in the collection can be ordered in ring sizes 4-12, and necklace lengths can be customized as well.
What three ingredients are necessary for a great day at Rebecca Mir Grady Jewelry? 
A good podcast or audio book to listen to, a good hammer, and nice light (that last one is much easier to come by in Santa Fe than it was in Chicago!)
What are some traits of your ideal clients and customers?
One of the things I love so much about making jewelry is getting the opportunity to create pieces for so many different people! I'm honored to be able create something special for folks, whether it is something that they will wear daily or on those extra special occasions!
What Past Clients Have To Say:
"I just received my ring today and I am so so happy with it! It is a truly beautiful and simple piece. This is being used as my wedding band and I can't thank you enough for creating a piece of jewelry that is sustainable, gorgeous, and timeless all at once. :)"
— M. K.
REBECCA MIR GRADY
As a supporter of marriage equality and environmentally sustainable practices, I make all of my jewelry by hand from reclaimed precious metals - primarily sterling silver and 14k gold - and ethically-sourced stones in my Santa Fe studio. When I'm not making jewelry, you can find me painting or hiking somewhere in New Mexico or Maine.
Category
Website
https://www.rebeccamirgrady.com/
Location
Santa Fe, New Mexico and Online Worldwide
Price Range
US$50-3500
Shipping Policy
We ship worldwide via USPS + FedEx